Additional Seed Paper Product Options
Ribbon
Ribbon ties are available in the following colors: red, blue, green, white, blue and brown. For a more earthy feel, we recommend a natural hemp twine. A ribbon or hemp tie can be added to complement many of our seed paper products for an additional .20' per piece.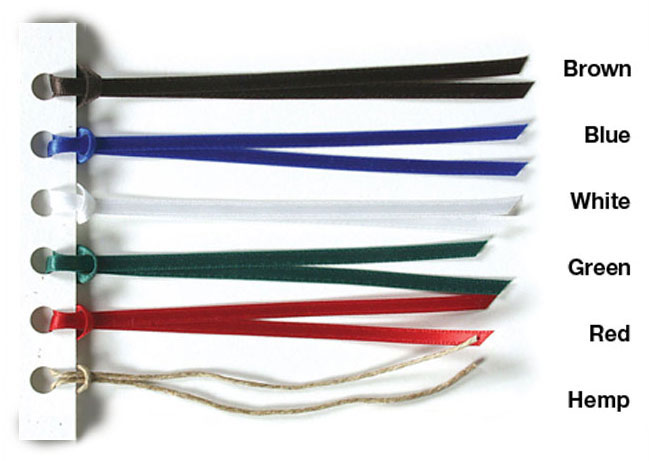 Envelope
All folded products include a standard white envelope. Our standard envelope is available in a soft white color that contains 30% recycled content. We also have 100% recycled envelopes in Snow or Milkweed for an additional .20' per piece.
Standard Envelope Sizes:
A2:
5 ½ Baronial (4.625x5.75"; fits a 4.25x5.5" card), pointed flap
A6:
6 Baronial (4.75x6.5"; fits a 4.625x6.25" card), pointed flap
A7:
Lee (5.25x7.25 ; fits a 5.125x7" card), square flap
Cardstock
Our standard cardstock is C2S, glossy coating on both sides with 10% recycled content (C1S: one side coated card stock is also available upon request).
Reincarnation Matte Coated 100# 60% post-consumer waste. Imagination 80# 100% recycled. Uncoated 100%-recycled, FSC-certified content. Available in: chartreuse, blue, and fossil, milkweed, snow, and mohawk (white). A 10% upcharge will apply for these Premium cardstocks.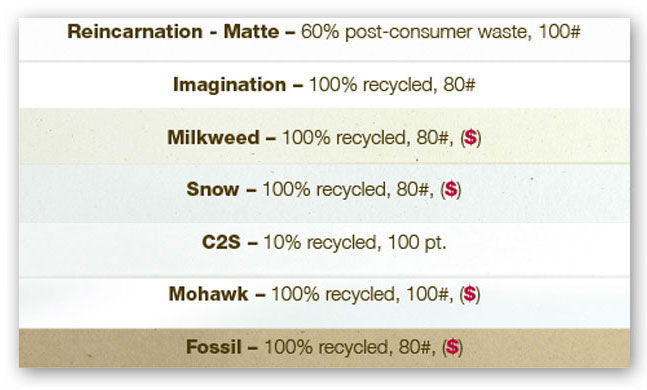 Cello
Any product can be individually cello-wrapped for an additional .20' per piece. Multiple pieces cello-wrapped together are .30' additional per piece. Please call to ask about availability of Earth-friendly biodegradable cello bags.
Eyelet
A metal eyelet adds a polished touch to any of our seed paper products. It can also serve as a useful reinforcement on our seed paper tags, that might be subjected to a lot of handling. We stock eyelets in a buffed gold or polished silver colors. Eyelets are available for an additional .20' per piece. Eyelets are not available on all products.
Wafer Seal
We stock 1-inch wafer seals in clear and semi-opaque white. Add a wafer seal to stabilize or tab close any product for an additional .20' per piece.
Letterpress Printing
Letterpress printing machines "stamp," or deboss, your design into the seed paper. Letterpress can be debossed only, or debossed and printed with up to two colors. This process does not significantly decrease germination rates. Letterpress is a wonderful complement to our colorful and richly-textured seed paper. Custom printing plate charges will apply to the set up cost. Cost varies depending on the size and complexity of the design.