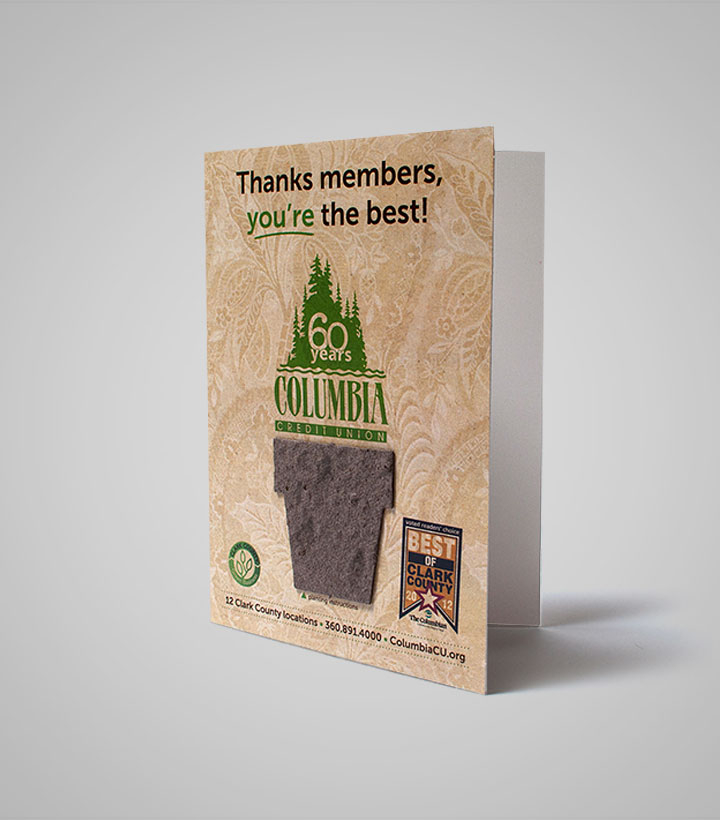 Additional Examples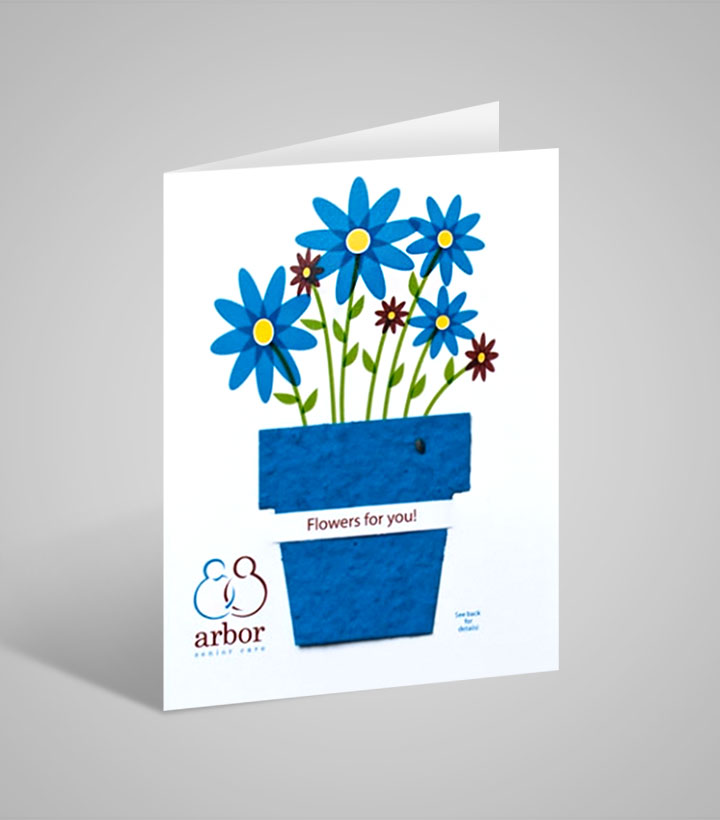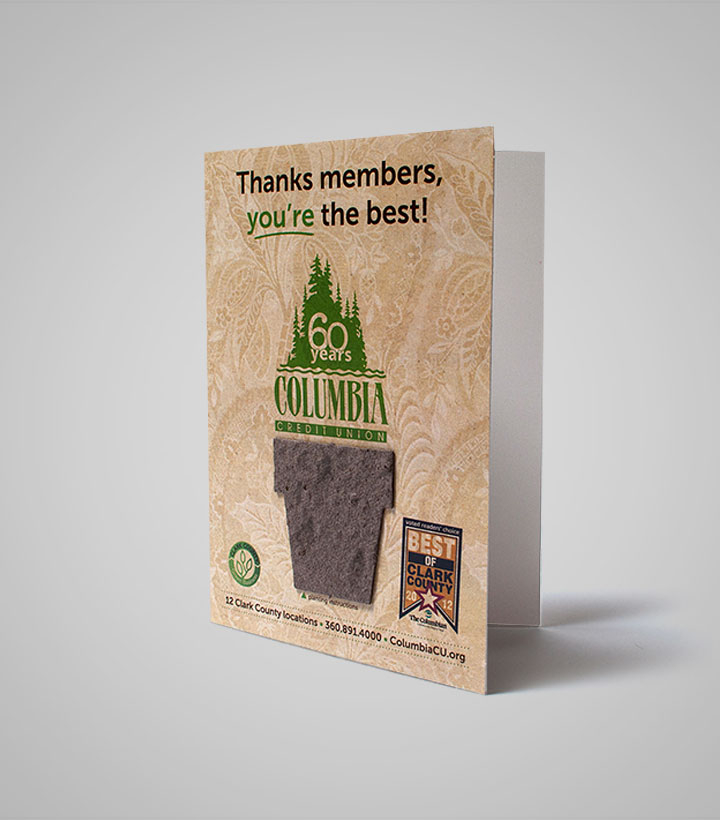 Custom Printed Seed Paper Shape Greeting Cards - 4"x5.25"
Greeting cards with an eco-friendly message attached! Each 4" x 5.25" folded greeting card is custom printed on our standard 60% post-consumer recycled, white card stock with your artwork in full color on one or both sides. The greeting card is adorned with your choice of seed paper shape and seed paper color.
View Paper Shapes: Select from 150+ different seed paper shapes.
View Paper Colors: Select from 21 different seed paper colors.
Our seed paper is 100% post-consumer recycled, handmade seed paper, embedded with wildflower seeds. All paper and printing is 100% USA made and printed with eco-friendly water-soluble inks.
Our specially formulated wildflower seed mix contains both annual and perennial non-GMO seeds that will flourish in all regions of the continental U.S. Visit our seed mix page for a complete list of seed paper grades and seed mixes available.
Approximately 150-400 seeds per 4" x 4" area of paper.
Size: 4" x 5.25", folded; 8" x 5.25" flat.
See Extra Services & Options below for other product add-ons and additional ordering options.
Price Chart
Seed Paper Shape 1-Sided Greeting Cards
Seed Paper Shape 2-Sided Greeting Cards
For quantities over 2,500 email steve@earthlygoods.com for a quote.
How Do I Order?
It's easy. Choose your quantity and place your order from the chart above for 1-sided or 2-sided printing. A $35 printing set-up fee will be added per side printed.
Enter your seed paper shape and seed paper color choices during the checkout process. Be sure to visit our seed paper color page and our seed paper shapes page to make your selections.
Contact steve@earthlygoods.com for a template and follow the artwork requirements listed below to create your artwork.
Send a PDF of your artwork by email to steve@earthlygoods.com to review. We'll email you with approval to send final art or suggest changes if needed.
Once your order and final artwork are received, we'll email you a final PDF proof for approval.
Once approved, your order will be put into print production.
APPROVED ORDERS TAKE 7 BUSINESS DAYS to complete and ship.
Logo/Artwork Requirements
If you can't provide artwork, no problem! Just tell us what you want to say, along with a logo or graphic, and we'll set it up FREE!
Printable area size is 4" x 5.25" and can include a bleed. If there is a bleed, be sure to build it into your artwork 1/8" beyond edges.
It's very important not to exceed 25% total printed area when printing on seed paper. Light ink coverage is required, as solid, dark areas can affect print quality and germination.
We suggest including planting instructions along with your logo, message or other artwork. Our provided templates include planting instructions. Here are a few examples you can select from when creating your artwork.
EPS (vector-based) is the preferred file type for your company logo and artwork. High resolution JPG or PDF files are also acceptable. Please be sure to convert all fonts to outline and embed any graphics before submitting your art.
Extra Services & Options
CUSTOM OPTIONS: Seed mix, cello wrapping, ribbon color, letterpress printing, original seed paper colors, premium seed paper colors.
RUSH SERVICE (5 business days): add $125 for quantities up to 2,500.
SUPER RUSH SERVICE (3 business days): add $175 for quantities up to 2,500.
EXPEDITED UPS SHIPPING: Varies by location
Samples are available upon request. Please provide a FedEx, UPS or credit card # for expedited samples.
PRE-PRODUCTION PROOFS are available if you find it necessary to see how your art reproduces on seed paper. These proofs are untrimmed press sheets that indicate die-lines. A $75 set-up charge applies. This cost does not apply toward final product purchase.
PRE-PRODUCTION SAMPLES are available if you need to see a final mock-up of your final product, printed, die-cut and fully assembled. A $150 set-up charge applies. This cost does not apply toward final product purchase.
CUSTOM PROJECTS are available. Seed paper is a perfect choice for an eco-friendly message. We can create custom shapes, seed mixes, sizes and or colors.
Quoting with other vendors? We can meet or beat most competitors' prices. Email steve@earthlygoods.com for a quote.
If you have any questions regarding your order, email steve@earthlygoods.com.